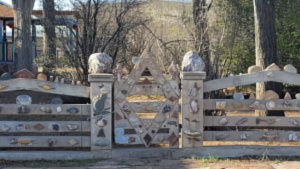 Inspired by Pop Shaffer's Critters – Student Art Exhibit
Mountainair's Art Students, 4th and 5th grades
Mountainair's Art Students, 4th and 5th grades, attended a lecture at the Manzano Mountain Art Council. They learned about "Pop" Clem Shaffer and his style of "American Folk Art".
Discussion was held about the natural materials he used. They studied the elements of art; line, shape, texture and form. While at MMAC the students were able to observe "Pop's Critters" in their permanent home.
Lenora Romero has been working with her students on this project to fulfill a New Mexico Core Standards requirement. It has been a great project for us to be involved with the school, teacher and student Unique that hasn't been done. Perhaps it has, but not in My Way. I feel that there is no Mastery, just the Journey, and the Search for Something New.