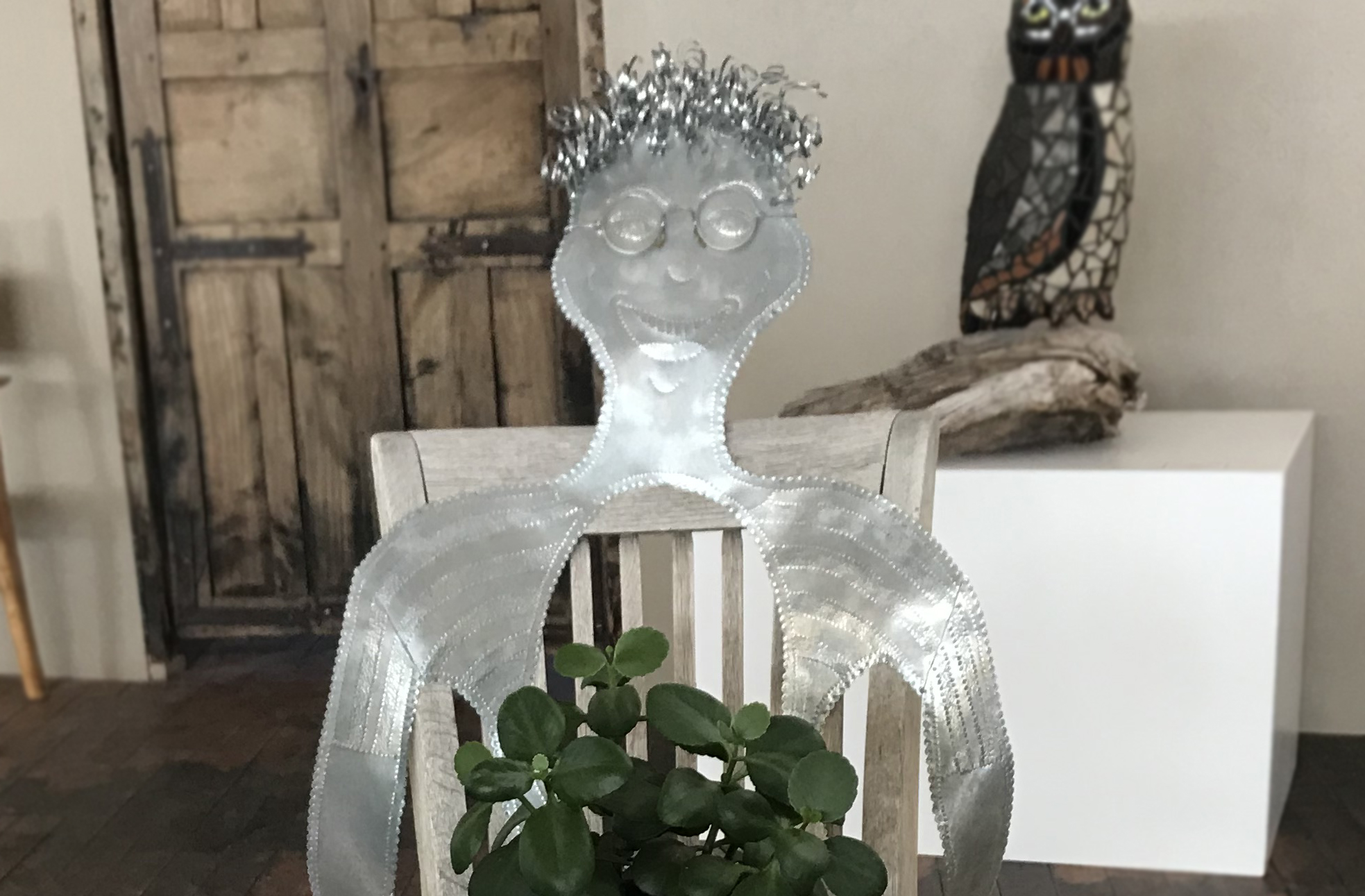 Artist Spotlight: The Tin He/She
Tin, weathered wooden chair, Kalanchoe plant
Artist: Anne Ravenstone
About the Artist
I lived the first 8 years of my life as a Texan, the next 13 as a Coloradoan, then 25 years in Minnesota, and have now lived in New Mexico for 27 years. During the Minnesota years, I was a dancer and choreographer, directing my own school and performing with the internationally touring Nancy Hauser Dance Company. In New Mexico, I continued to dance but increasingly directed my creativity toward decorative tin, finding the physicality and spatial designs of folk art to have a surprising relationship with my years dancing. A lifelong love of weathered wood became an integral part of the tin pieces.
These days I continue searching for new ways to implement unusual tin designs but also spend time gardening, hiking, exploring archaeological sites, and serving on the board of Manzano Mountain Art Council. Additionally, I love spending time with my two daughters and their families which includes six amazing grandchildren ages 10–30.
Artist Statement
Over the years I have rescued a number of old weathered chairs of different styles and created unique tin decorations— always with a planter on the seat. (Most of the chairs are too fragile to be sat upon!) When I found this old swivel desk chair, it sat outside my workshop for a long time before I realized that it needed a full-sized person with glasses and curly hair holding a plant pot. My 10-year-old grandson lay on a large piece of paper to make the silhouette for The Tin He/She. I finagled his original silhouette to get it to fit just right on the chair. The chairs are always the inspiration for their final design (a desk chair seems academic and so do eyeglasses!). The acceptance of a variety of sexual identities marks our current time period, contributing to the androgyny of The Tin He/She.
Price: $225.00