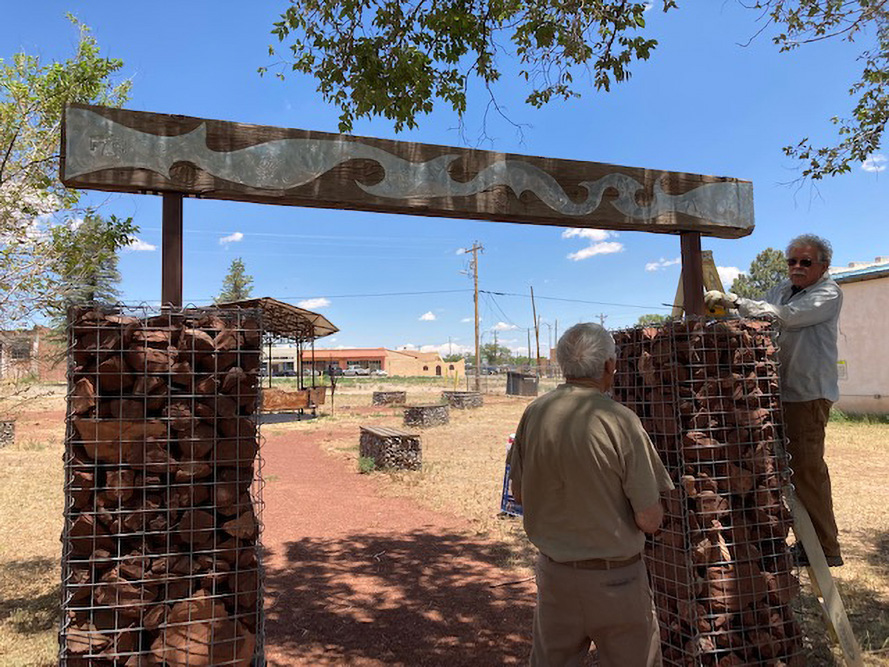 Decorative Beam @ Monte Alto Plaza
Community Project:  On June 25, with Roy Taylor (and a little help from LeRoy Simmons), the beam over the South Gate of  Monte Alto Plaza, facing the Shaffer, finally went into place. This beam is decorated with two tin "banners" that were a project of a "You Are the Artist" tin workshop from March 2021.

The wood beam was donated by Gary Fulfer.

Tin workshop participants were Marvin and Peggy Watts, Ann Lacy, Sarah and Sally Martin, Maggi Arelt, Pat Weiland, Bob and Joan Morales, Pat Havens, Amy and Jim Lewis, Sandy Chaplain, Caitlin Minton and Thompson Chesnutt.

Anne Ravenstone, who was the project lead, also created the tin designs based on Pop Shaffer's painted images, which are on the ceiling of the Shaffer Dining Room.
 
Thank you to all who contributed materials, participated, and volunteered with the decorative beam project for Monte Alto Plaza.  This addition contributes to the aesthetics of our community.