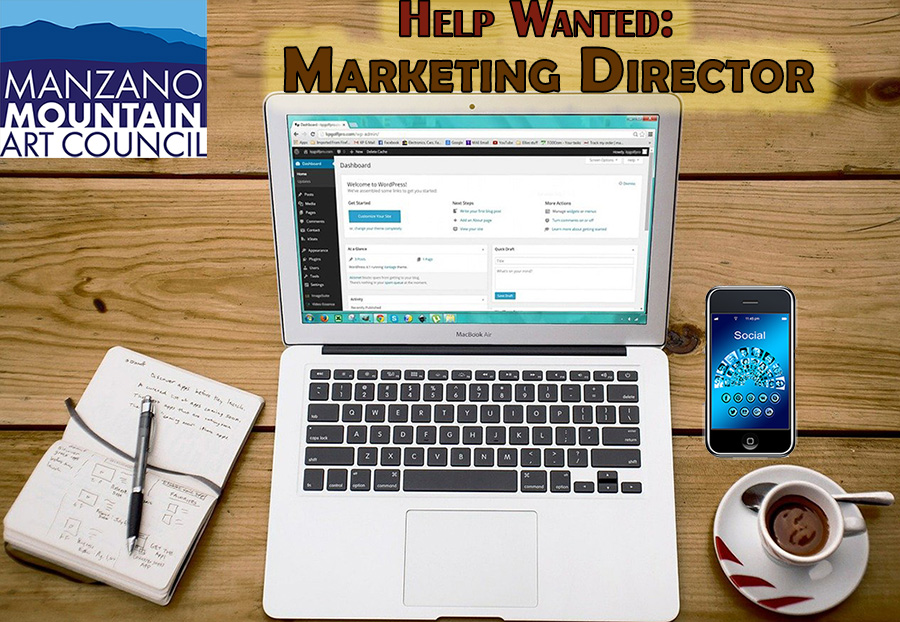 Seeking Marketing Director
Manzano Mountain Art Council, a non-profit in Mountainair, NM is seeking a part-time experienced marketing professional or a junior or senior college student with the desired skill sets, to be in charge of the organization's marketing endeavors.  This primarily involves creating and implementing strategies to create awareness of the organization's presence and all the unique work that it does.
Read more below—
Job Description
Position Title: Marketing Director
Compensation: $600 per month (approximately 40 hours of work per month on average)
Employment Type: Part-Time,
renewable 6 month contract (as an independent contractor)
Location: Mountainair, NM and Remote
(Primarily remote, however, attendance is required for monthly board meetings)
Technical Aspect
Knowledge in these applications and platforms:
*Required:
Adobe Creative Cloud suite  (Adobe Photoshop, Illustrator, InDesign) or something similar*
WordPress*
Microsoft Office or something similar*
Facebook*, Instagram*
#Helpful:
MailChimp#, YouTube#, Google Drive# (similar to Dropbox), Google Forms#, HTML#, CSS#
This creative, yet highly organized marketer works collaboratively with the Board of Directors, Committee Chairs, and Volunteers to plan, create, and execute new marketing content for digital and print media. 
Job Responsibilities
• Develop an overall marketing plan to extend our reach and grow our donor base
• Create promotional materials and develop marketing ideas for all events, including our annual Sunflower Festival
• Manage the front end of our WordPress website, as well as create posts, pages, etc.
• Deal with newspaper and radio advertisers for print, digital ads, and radio scripts
• Perform copywriting, copy editing, photo editing, and graphic design as needed
• Create weekly MailChimp Newsletters
• Post to and manage social media sites, such as Facebook, Instagram, and YouTube
• Report monthly to the Board of Directors.
• Perform other Marketing/WordPress related duties
 Skills & Qualifications
• 1 years' experience in content and/or digital marketing, including print and digital graphics   

• 1 years' experience working with content creation on a WordPress website and posting to social media
• Experience copywriting and copy editing
• Excellent interpersonal, communication skills, both written and verbal, and time management skills
• Ability to work independently with little or no supervision
• Some experience working with WordPress plugins, themes, etc., and the backend of a website
• Some experience developing responsive web designs
If you have any questions regarding this job, send an email to:  marketing@manzanomountainartcouncil.org
To be considered for this position, submit the form below and check your email for further instructions. If you do not recieve an email within 3 minutes, check your SPAM/junk folder.