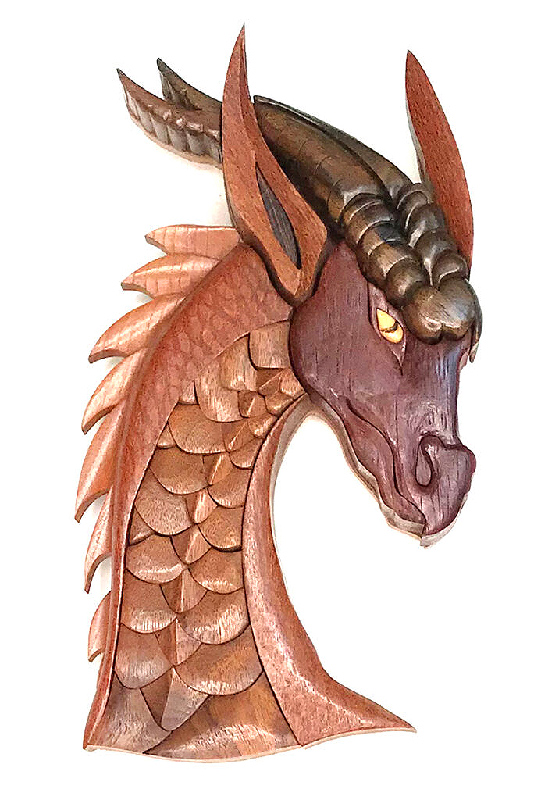 A Talk on Being an Artist-in-Residence at Salinas and Creating Wood Art with Intarsia
Ever wonder what the NPS Artist-In-Residence Program is about?  And what is Intarsia?
Dennis Pritchard, Salinas Pueblo Missions Artist-in-Residence, 2020-2021, and woodworker.
(His amazing woodwork is currently part of the "Critters: Finned, Feathered, Furred Show", an art exhibit currently on display at MMAC through July 1, 2021.)
This lecture will focus on Mr. Pritchard's experience as a Salinas Artist-in-Residence, as well as an in-depth discussion of the process of intarsia he uses to create his art pieces.
(Intarsia is a special form of wood inlaying.) Mr. Pritchard will enlighten us with a more detailed explanation in this lecture.
Saturday, May 22, 2021  2:00 PM
MMAC Art Center, 101 E. Broadway, Mountainair, NM 87036
(Intersection of Hwy 55 and 60)
Dennis Pritchard Bio:
Born and raised in Oklahoma, I was hired by the National Park Service right after graduating from college in 1976. I was a seasonal worker with them at Carlsbad Caverns, Mammoth Cave, Everglades, Big Bend, and Isle Royale National Parks. There was even a winter spent at Bosque del Apache NWR in 1980-81. I then became a permanent employee with the U.S. Fish and Wildlife Service, working in Oklahoma twice, Alaska, Texas, Washington, DC, and ended up at Sevilleta NWR (National Wildlife Refuge) where I retired in 2011. I have been woodworking for well over 25 years but have been concentrating on intarsia ("Painting with Wood") for about 20 years now. I have about 50 species of wood to choose from for my palette. I reside in Rio Communities.
All mandated Covid restrictions will be followed:
Visitors are required to wear face masks, seating 6 feet apart, and the audience is limited to 50 people (200 capacity).
Come join us for this free, entertaining, and educational event! Become inspired!